Ask the Expert: Can LEDs Help Capture Perfect Wedding Photos?
April 21, 2017
Wedding days are filled with memorable moments. Whether it is the bride or groom getting ready before the ceremony, the newlyweds sharing their first dance, or guests laughing during the reception, there are moments of excitement, love, and joy that we want to capture in photographs. Lighting is one of the best tools for taking photos that reflect the magic of these moments.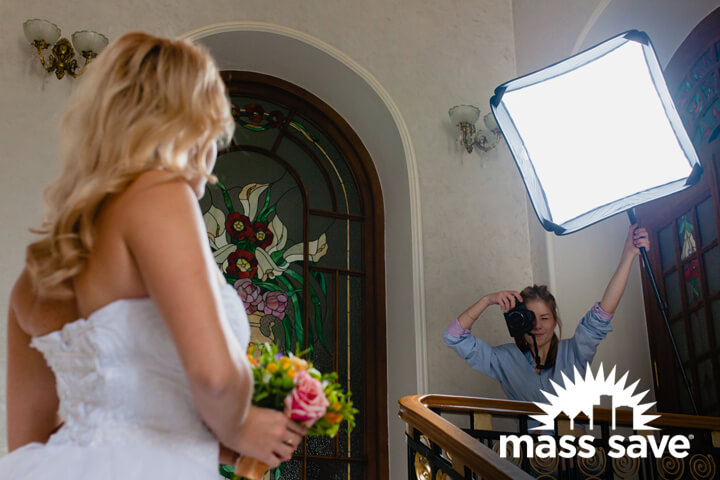 Nicole Chan,
Boston Wedding Photographer
To learn more about the role lighting plays—and ENERGY STAR® certified LEDs in particular—we spoke with Boston wedding photographer Nicole Chan. Ms. Chan is an award-winning member of the International Society of Professional Wedding Photographers (ISPWP) and World Photojournalist Association (WJPA). BrideBox named her one of the top 20 wedding photographers in Boston, and her work has been featured in major publications, including The Boston Globe, The New York Times, and Martha Stewart Weddings.
When asked about the importance of lighting in capturing photographs, Ms. Chan explained, "Light pretty much drives an image. It's light, emotion, and moment." To capture the best photo, Ms. Chan depends on natural light and a combination of artificial light options, such as strobe lighting, portable flashes, and LED panels that provide continuous light.
Most of the artificial lighting Ms. Chan uses is generated by LEDs because of the advantages these bulbs provide. "We love using LED panels, since you can easily change the color temperature and intensity and see the results in real-time, versus a flash or strobe lighting where you have to set your parameters and then make adjustments based on how the picture turns out." The fact that LEDs are dimmable makes it particularly easy to modify the intensity of light: "If we're far away and need more light, we can just dial up, or if we're too close and we can't back up at all, dialing down is an option as well."
Another advantage is the energy efficiency of LEDs. "All our light panels are battery-operated because we need them to be portable, since it's always 'Go! Go! Go!' in the wedding industry. Our panels use LEDs since these bulbs won't drain the batteries quickly." LED bulbs, particularly ENERGY STAR® certified LEDs, can be up to 90% more energy-efficient than traditional incandescent bulbs.
To capture great wedding photographs requires more than just having the right bulbs though. Depending on the type of image Ms. Chan wants to capture, she may use different tools to create harder or softer light, as well as match the color temperature of the scenery. For instance, Ms. Chan often uses light modifiers that can diffuse, soften, or concentrate light. She also frequently applies gels to her flashes to ensure that colors appear balanced across an image.
But what if you don't have access to special lighting photography tools and still want to snap some praise-worthy wedding photos? "Honestly, some of my favorite photos that I've ever created have been with gear that is not fancy, but instead simple and basic," Ms. Chan revealed. When asked for lighting tips she could provide to novice photographers, Ms. Chan recommended focusing on the angle of light. Whether you're using natural light from the sun or artificial light from LEDs, it's best to avoid direct, overhead lighting, since it can be harsh. With natural light in particular, Ms. Chan recommends waiting for sunset: "At sunset, the light is softer since the sun is a bit further from the earth. Lots of photographers prefer to shoot during this 'golden hour' because the light is very flattering."
With the peak of wedding season quickly approaching, you're likely to come across some great wedding photographs. Next time you find yourself admiring these photos, remember that it's not just the bright smiles, fancy outfits, or majestic backdrops that make these shots so memorable: it's also the lighting.
Looking for other articles in our "Ask the Expert" series? Check out our interview with Massachusetts-based realtors discussing the effect of energy efficiency on home value, or learn more from a local design team on how LEDs can enhance your home's interior design.
Explore More Topics
Personalized Energy Saving Solutions
MyEnergy provides customized content based on your location and energy needs.
Energy Savings Earn Big Rewards: ENERGY STAR Names Mass Save Sponsors 2023 Partner of the Year
The Sponsors of Mass Save are proud to receive, for the third consecutive year, the ENERGY STAR Partner of the Year - Sustained Excellence Award from the U.S. Environmental Protection Agency and the U.S. Department of Energy.
Customers report overwhelming satisfaction with heat pump installation and performance.
Eversource, a proud sponsor of Mass Save, recently issued a heat pump satisfaction survey to thousands of residential customers who have received heat pump rebates over the past two years.