Ask the expert: how can LEDs enhance the interior design of my home?
March 01, 2017
When you decide to remodel your home, figuring out where to start can be overwhelming. From picking out new furniture, to deciding on the perfect paint color, to updating your window treatments, the to-do list can grow long very quickly. Amongst everything else, it's important not to overlook lighting in order to get the most out of your remodel. Selecting the right bulbs and fixtures will be key to creating the ambiance you want and showcasing your new décor. With the variety of options now available, ENERGY STAR® certified LED bulbs and fixtures often provide the perfect options for meeting your lighting and design needs.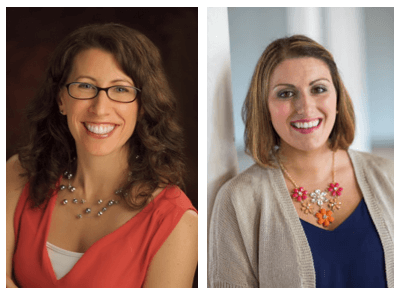 Lisa Scheff (left) and Beth Giguere (right)
To gather tips on how LEDs can add to your home, we sat down with Beth Giguere, Communication Director at Lisa Scheff Designs. Lisa Scheff Designs is an award-winning residential interior design firm based in Longmeadow, MA. Led by Lisa Scheff, the design team blends creativity and functionality to create warm, inviting spaces that reflect their clients' personalities and how they use their homes.
Lighting Qualities to Look For
According to Giguere, one of the most important qualities to consider when choosing LEDs is the bulb's color temperature. Color temperature, measured on the Kelvin scale, typically ranges from 2700K to 5000K. Warm light—similar to that provided by a traditional incandescent bulb—averages from 2700K to 3000K, whereas bulbs around 5000K provide a crisp daylight appearance. Giguere explained, "We want to use the warmest color LED bulb that we can in a space, because we want to create a welcoming environment. Using an LED that provides a crisp, bluer light, as opposed to a warm, yellow light, can make a room feel sterile."
Another key feature that Giguere and her colleagues look for when selecting bulbs is dimmability. Fortunately, most LEDs are compatible with universal dimmers, so bulbs can easily be adjusted to create the ambiance you want in a room, while simultaneously lowering your energy use. Giguere and her colleagues pair most ceiling fixtures with dimmable LEDs, helping provide flexibility to a room's mood.
Advantages of LEDs
LEDs offer several advantages in your home compared to traditional incandescent bulbs. ENERGY STAR® certified LEDs use over 80% less energy than their incandescent equivalents, meaning you can save more than $100 in energy costs over the lifetime of each LED bulb you install. Due to LEDs' greater efficiency, these bulbs also produce less heat, which makes them attractive to designers. Giguere stated, "We feel more comfortable putting additional LED fixtures into a space to light it well, because we don't have to worry about the lighting giving off heat or raising the client's energy bill." She added that LEDs are especially great for kitchens, where cooking and baking already make the room warmer.
LEDs also offer aesthetic and practical advantages over incandescent bulbs. For example, the Lisa Scheff Designs team often prefers LEDs for recessed lighting. Giguere explained, "Using LEDs in recessed lighting provides a much cleaner look, since the bulbs can be installed flush with the ceiling." The team also finds that LEDs work well with accent lighting, which can be used to showcase certain features, such as drapery or artwork. Plus, with lifespans that can reach over 20 years, LEDs don't need to be changed as often, which helps avoid the hassle of replacing bulbs in fixtures that are difficult to reach or take apart. "Oftentimes with innovative light fixtures it can be difficult to change the bulbs. LEDs last years and years, so you won't have to change the bulbs often. This is a huge convenience factor that customers don't often think about at the time of purchase."
New Innovations
In recent years, the Lisa Scheff Designs team has seen the variety of LED fixtures grow significantly, with manufacturers currently offering an array of traditional and innovative LED fixtures. Giguere has even seen an evolution in LED bulbs themselves: "LED bulbs have come a really long way. We just installed a fixture where the LED bulbs, which look like the antique Edison bulbs, are completely exposed and part of the décor." With energy efficiency becoming increasingly important to their clients, the Lisa Scheff Designs team enjoys integrating new energy-efficient lighting and technologies into their clients' homes.
Overall, choosing the right lighting is critical for creating the look and feel you want in your home. LEDs often provide an ideal solution, as they can provide an energy-efficient lighting option that also complements your home's interior design. If you're feeling inspired to upgrade your home's lighting, check out our retail finder or online storefront to find discounts on ENERGY STAR certified LEDs, made possible by the sponsors of Mass Save. For more design tips, be sure to follow Lisa Scheff Designs.
Explore More Topics
Personalized Energy Saving Solutions
MyEnergy provides customized content based on your location and energy needs.
Energy Savings Earn Big Rewards: ENERGY STAR Names Mass Save Sponsors 2023 Partner of the Year
The Sponsors of Mass Save are proud to receive, for the third consecutive year, the ENERGY STAR Partner of the Year - Sustained Excellence Award from the U.S. Environmental Protection Agency and the U.S. Department of Energy.
Customers report overwhelming satisfaction with heat pump installation and performance.
Eversource, a proud sponsor of Mass Save, recently issued a heat pump satisfaction survey to thousands of residential customers who have received heat pump rebates over the past two years.