Adding Up the Benefits of Over Ten Years of Appliance Recycling
October 16, 2018
Did you know that for more than a decade the Sponsors of Mass Save® have offered customers no-cost pickup, plus a rebate for recycling their old or unneeded refrigerators and freezers? It's true! Since 2006, the Sponsors – Cape Light Compact, Eversource, National Grid, and Unitil – have operated the Mass Save® Appliance Recycling Program to provide residential electric customers with a convenient and environmentally friendly way to remove inefficient units from their homes.
With the program now in its thirteenth year, the benefits have really started to add up! Check out the three key ways the program has had a positive impact across the Bay State. Explore our new infographic below to learn even more about the program and its advantages.
Protecting the Environment: To date, the program has prevented over 107,000 refrigerators and freezers from entering landfills. That equates to more than 17.9 million pounds of recycled materials. All hazardous components that can't be recycled are also disposed of correctly, exceeding the federal requirements of the EPA's Responsible Appliance Recycling Program.
Avoiding Energy Waste: Old refrigerators and freezers are far less efficient than today's ENERGY STAR® certified models. In addition, secondary units that you don't really need anymore can be a costly source of energy waste. By helping customers remove these inefficient or unnecessary units from the grid, the program has resulted in an estimated lifetime energy savings of nearly 418 kilowatt hours. That's enough electricity to power almost 40,000 homes for a full year!
Saving Customers Money: By replacing an old, inefficient unit with a new, ENERGY STAR certified model, you can save up to $100 a year on energy costs. Plus, the Sponsors offer a rebate just for recycling your unit. Customer participation since 2006 has led to the receipt of nearly $5.7 million in rebates.
The Sponsors of Mass Save would like to thank all customers who have participated in the program to date and encourage others to consider participating – whether it's time to upgrade your refrigerator or freezer, or you are ready to retire that secondary appliance that isn't really being put to use. Rebates will be provided for a maximum of two units per electric account per calendar year, and all units must be clean, working, and have an inside measurement between 10 and 30 cubic feet.
Are you ready to recycle and help us accumulate even more savings in resources, energy, and money? Schedule your pickup online or call 1-877-889-4761 to get started.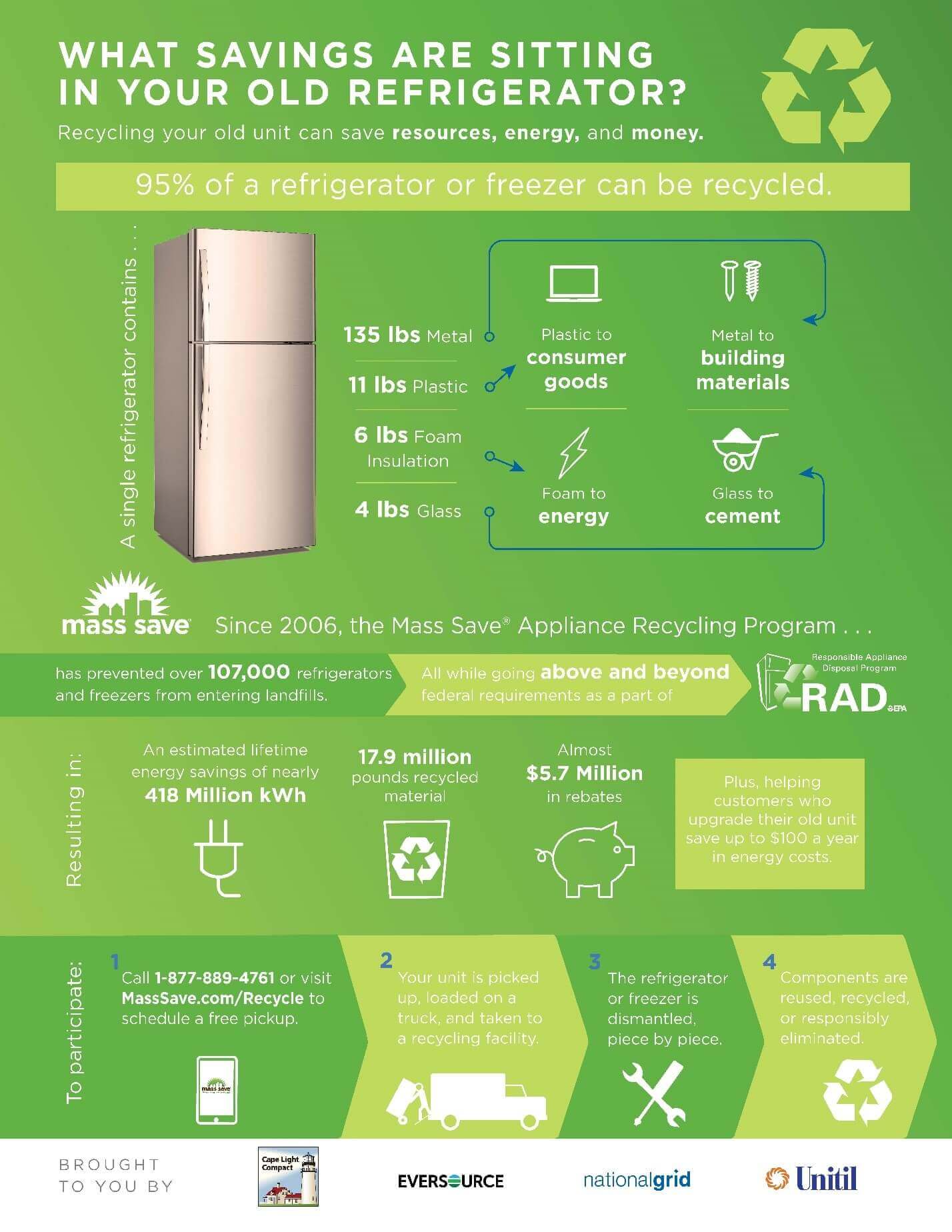 Recycling
Lighting & Appliances
Explore More Topics
Personalized Energy Saving Solutions
MyEnergy provides customized content based on your location and energy needs.
Saving energy pays off—Mass Save® Sponsors earn 2022 ENERGY STAR® Partner of the Year
The Sponsors of Mass Save® are proud and honored to have received the ENERGY STAR® Partner of the Year—Sustained Excellence Award from the U.S. Environmental Protection Agency and the U.S. Department of Energy for 2022 for their work on promoting ENERGY STAR certified products to residents.
What does it mean to buy ENERGY STAR® certified appliances?
When you shop for appliances and electronics for your home, do you look for the blue label? We're talking about ENERGY STAR.The program was created by the US Department of Energy and Environmental Protection Agency as a way to help consumers and businesses protect the environment by saving energy and reducing CO2 emissions.