Equipment & Systems Performance Optimization (ESPO)
Ensure your energy-efficient equipment performs its best with retro-commissioning and monitoring services matched to your needs
Optimize your building's equipment settings for your current needs.
People's needs change over time – so should your building and equipment controls. Our Equipment & Systems Performance Optimization services help maintain occupant comfort and save you money by prolonging the life of your equipment and ensuring that your building systems are performing at their best. Simply making equipment run as intended can improve energy savings by 10-35 percent.
Mass Save provides three options designed to fit your resources, needs and savings goals. Whether you just want to tune-up a few pieces of equipment, or you'd rather take a comprehensive whole-building approach, we can help. Talk to your Mass Save Sponsor and they will help you find the path that's right for you.
Low Cost Measures
Targeted Systems Tuning
Whole Building & Process Tuning
Good if you…
need to tune-up a few pieces of equipment.
have several pieces of equipment in the same system that need attention.
want to optimize your whole building or process.
Commitment level
Light
Modest
Deep
Application type
Pick from a pre-approved list of measures
Pick from a list of systems
Custom
Examples of approved projects (for full list please see application)
Tune Anti-Sweat Controls
Cycle Evaporator Fans
Reduce Defrost
Refrigeration
Compressed Air
HVAC
All building or process systems
Assistance provided
Technical support and incentives
Investigation funding and incentives
Investigation funding and incentives
Monitoring-based commissioning
Regardless of which path you choose, monitoring-based commissioning can help you ensure that your equipment, systems or building continue to operate at their best through continuous monitoring and tune-ups, and provide you incentives for doing so. Ask your Mass Save Sponsor for more details.
Want to learn more?
Download the Applications to review eligibility requirements and review the FAQ sheet for more information.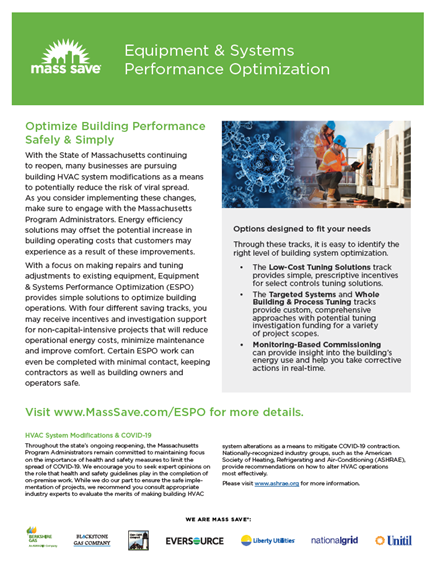 Equipment & Systems Performance Optimization Fact Sheet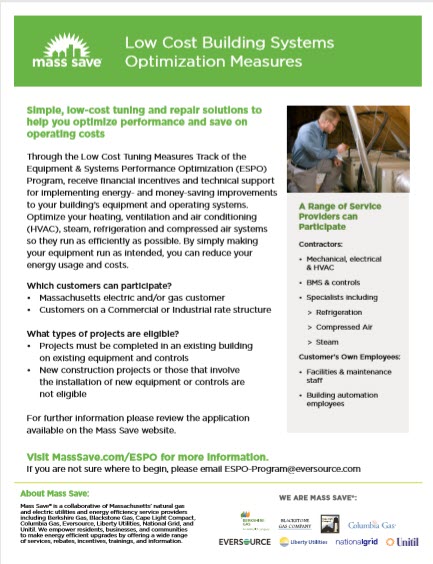 Low Cost Tuning Measures Fact Sheet