Beat the Heat this Summer with All-Star Energy Savings
July 29, 2016
Here in Massachusetts, our reward for a long, cold winter is a few hot and humid weeks during the summer. While it's hard to keep cool all summer, Mass Save is here to help with our "beat-the-heat" lineup of tips and rebates to keep you cool and comfortable.
Replace your incandescent and halogen light bulbs.
Looking for a good way to kick off summer savings? Replace existing incandescent and halogen bulbs with ENERGY STAR® certified LEDs – they last longer, will save you money, and operate at much cooler temperatures. If you think you've replaced all the bulbs in your house, check the hood lights on your stove. These small MR16 bulbs are typically halogen and burn hot enough to fry an egg! You can find replacement LED bulbs for any application through the Mass Save online storefront.
Close the blinds on the south-facing side of your home.
Alleviate the sun's intensity by closing the blinds in sunny rooms to block the sun's heat from entering your home. Check with your local hardware store for advice on the best shades to use – there are options for every budget, and ones that are specifically designed with energy efficiency in mind.
Get rid of your second fridge or freezer.
Do you have an old, working second fridge or freezer that you seldom use? When it gets hotter outside, fridges and freezers need to work harder to keep food cold, often emitting waste heat in the process. Consider using a cooler instead, and have your fridge or freezer recycled through Mass Save's appliance recycling program. (We'll also recycle your old, inefficient fridge or freezer if you're upgrading to a new one). You'll receive $50 and get a NO COST haul-away of your old unit.
Upgrade your thermostat.
If you don't have a programmable thermostat in your home, now is the perfect time to consider making an upgrade. Programmable thermostats enable you to save money on your energy bill while keeping your home comfortable and cool. According to the U.S. EPA's ENERGY STAR Program, you can save 1 – 3 percent per degree on your cooling costs for each degree the thermostat is set above 72 degrees. Check out available Mass Save rebates for programmable and Wi-Fi enabled thermostats.
Look for High EER.
If you do not have central cooling and are looking for relief from the summer heat, be sure to purchase an ENERGY STAR certified room air conditioner. Not only are they 10 percent more efficient than standard models, they are also performance tested, which means they'll last for multiple seasons instead of sending you back to the appliance store in the middle of a heat wave. If you are in the market for a new room air conditioner, look for models that have a high energy efficiency ratio, or EER. The higher the EER, the more efficient a unit is –which means greater savings on your energy bill. Click here to find a room air conditioner from select independent retailers.
Eliminate moisture.
While it may be OK if the temperature of your home is a little warmer than usual over the summer, it's not OK if you have rooms that are humid or damp. Moisture can wreak havoc on your home and health by spurring mold and other harmful bacteria to grow. Mitigate mold by using an ENERGY STAR dehumidifier – you can save up to $40 annually and receive a $30 rebate from Mass Save for purchasing a certified unit.
Use a ceiling fan.
Don't overlook the cooling potential of a ceiling fan. Fans are a more efficient cooling option than air conditioning, and they help your home's air quality by improving circulation throughout the house.
Update the pump.
Pool owners spend hundreds of dollars annually in energy costs to operate their pump during the summer. If you own a pool and have an older pool pump, now is the time to consider upgrading to a multi-speed or variable-speed ENERGY STAR certified pump - they are priced comparably with standard models, but can save you over $300 annually on energy costs. Learn more about the benefits of ENERGY STAR certified pool pumps.
Check for air leaks.
Drafty homes are noticeable when it's cold outside, but they're still a problem when temperatures rise. During the summer months, homes that have air leakage are susceptible to losing conditioned air. Ensure your home is airtight and comfortable for all seasons by scheduling a free Home Energy Assessment. If you'd like to determine how your home is operating currently, take our quick online home assessment – it takes less than five minutes to complete!
We at Mass Save invite you to step up to the plate this summer and "beat the heat" with a few simple energy-saving steps around your home. Follow us on Facebook and Twitter for more energy-saving tips all summer long!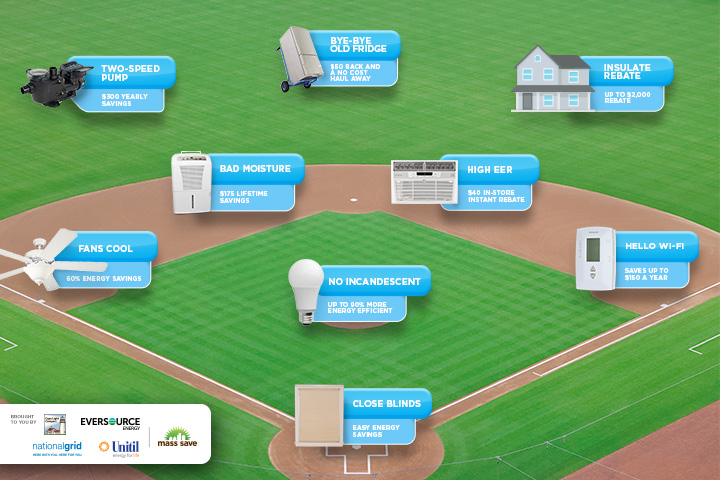 Explore More Topics
Personalized Energy Saving Solutions
MyEnergy provides customized content based on your location and energy needs.
Energy Savings Earn Big Rewards: ENERGY STAR Names Mass Save Sponsors 2023 Partner of the Year
The Sponsors of Mass Save are proud to receive, for the third consecutive year, the ENERGY STAR Partner of the Year - Sustained Excellence Award from the U.S. Environmental Protection Agency and the U.S. Department of Energy.
Customers report overwhelming satisfaction with heat pump installation and performance.
Eversource, a proud sponsor of Mass Save, recently issued a heat pump satisfaction survey to thousands of residential customers who have received heat pump rebates over the past two years.