Stumped for Home Improvement Ideas? This Five-Minute Exercise Can Help
April 06, 2016
Picture this: You're looking for ways to improve the comfort and overall performance of your home, but you don't have time to figure out where to begin. Sound familiar? If so, take Mass Save's Online Home Energy Assessment and learn the best starting point for you to improve your home's efficiency1.
Top Five Reasons to Take Mass Save's Online Home Energy Assessment: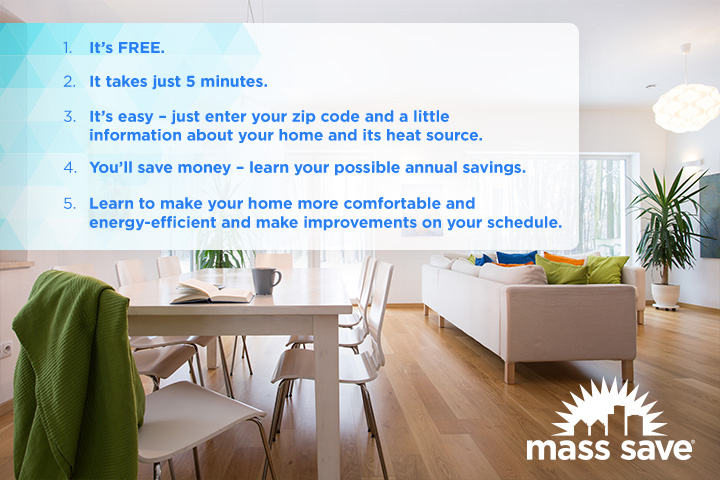 Once you complete the online assessment, you'll be provided with a custom home energy profile that you can use to make efficiency improvements to your house at your own pace. Your results will be completely tailored to your home's needs: recommended improvements could range from upgrading your lighting to ENERGY STAR® LEDs, to completing home insulation and air sealing, to upgrading inefficient heating and cooling equipment. For certain upgrades, you may be able to apply for 0 percent financing through the HEAT Loan.
Your home energy profile will also indicate whether you are a good candidate for having a no-cost in-home energy assessment through Mass Save. Home Energy Assessments take a comprehensive approach in assessing your home's performance, including comfort, health, and safety. A Mass Save Energy Specialist will review your home's energy use by analyzing your home's plug load, thermal boundary (insulation levels), and mechanical equipment. Instant energy savings products are also installed during the visit at no cost to you—solutions such as efficient light emitting diode (LED) bulbs, advanced smart power strips, and water-saving showerheads and faucet aerators. You'll receive a personalized report at the conclusion of the Home Energy Assessment that includes more advanced energy efficiency recommendations based on the Energy Specialist's diagnostics conducted in your home.
If you're constantly on the go or just need help figuring out how to start improving your home's efficiency, consider taking Mass Save's Online Home Energy Assessment. It'll be worth five minutes of your time.
1Please note, the online Home Energy Assessment is not offered to Cape Light Compact customers at this time. ↩
Explore More Topics
Personalized Energy Saving Solutions
MyEnergy provides customized content based on your location and energy needs.
Energy Savings Earn Big Rewards: ENERGY STAR Names Mass Save Sponsors 2023 Partner of the Year
The Sponsors of Mass Save are proud to receive, for the third consecutive year, the ENERGY STAR Partner of the Year - Sustained Excellence Award from the U.S. Environmental Protection Agency and the U.S. Department of Energy.
Customers report overwhelming satisfaction with heat pump installation and performance.
Eversource, a proud sponsor of Mass Save, recently issued a heat pump satisfaction survey to thousands of residential customers who have received heat pump rebates over the past two years.