Refrigerator and Freezer Recycling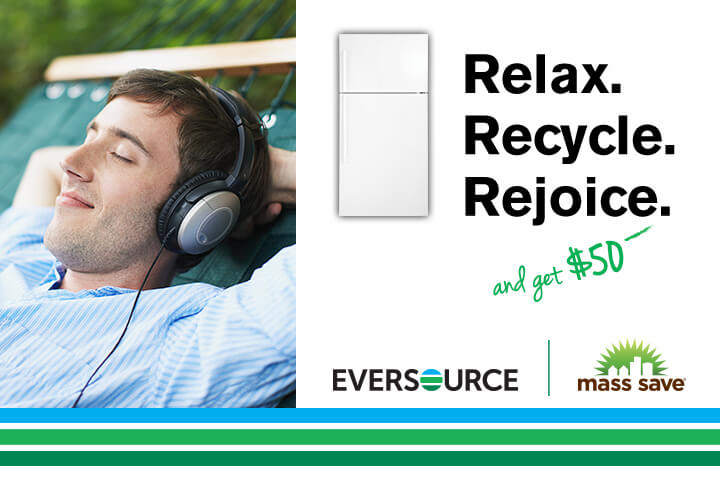 There Are So Many Reasons to Recycle Your Old Refrigerator or Freezer Now!
If you're looking to upgrade your refrigerator to a more energy-efficient unit, or you just want to get rid of an extra fridge or freezer that you hardly use, now's a great time to recycle your unit with Eversource by participating in the Mass Save® appliance recycling program.
You'll receive NO-COST appliance removal. Just sign up to recycle your old fridge or freezer, and we'll pick up your unit for no cost.
Your unit will be recycled responsibly. All components will be handled safely, and more than 95% of the materials that make up your unit will be reused.
Because old fridges and freezers use more energy than new ENERGY STAR® certified models, you'll avoid added energy costs by removing these inefficient units.
PLUS
You'll receive a $50 rebate from Eversource just for recycling your fridge or freezer!
How it Works:
Sign up online or call to schedule your no-cost pickup.
Have your Eversource electric account number on hand to avoid scheduling delays.
It's that easy, so get started!
SCHEDULE A PICKUP ONLINE

Or call 1-877-889-4761
Eligibility
You must be a valid Eversource Massachusetts residential electric customer in qualifying territory.
Refrigerators and freezers must be plugged in, clean, and empty at the time of pickup.
Refrigerators and freezers must have an inside measurement between 10 and 30 cubic feet, which is the standard size for most units.
To be eligible for the $50 rebate, you must call to sign up before January 1, 2019.
Some restrictions apply.
Not eligible for this offer from Eversource, but still a customer of a Mass Save sponsor and want to recycle your old refrigerator or freezer? Click here.