Refrigerator and Freezer Recycling
No-cost removal plus a $125 rebate
Recycle Refrigerators and Freezers - Get a $125 Rebate For a Limited Time
Do you have a working refrigerator or freezer that's not so energy-efficient? Residential electric customers and small businesses who recycle their inefficient working refrigerators or freezers through the Mass Save® appliance recycling program will be offered no-cost pickup and removal - plus, a $125 rebate. This $125 rebate is made available through the electric Sponsors of Mass Save, including Cape Light Compact, Eversource, National Grid, and Unitil.
Now Offering Contactless Pickup: How it Works
The following eligibility requirements apply:
1

Customers must be a valid electric account holder of Cape Light Compact, Eversource, National Grid or Unitil.

2

Order must be placed between August 1 - October 31, 2022, and your appliance(s) must be picked up before November 30, 2022 to receive the $125 rebate. Rebate will revert to $75 after the limited time promotion ends.

3

Refrigerators and freezers must have an inside measurement between 10 and 30 cubic feet, which is the standard size for most units. Per state laws, all doors must be removed from the refrigerator/freezer before placing outside for pickup to avoid paying fines. You can read more about the law here.

4


A maximum of two units per electric account per calendar year will be accepted.
Ready to recycle? Schedule your NO-COST pickup online or by phone. Have your electric account number handy to avoid scheduling delays.
Or call 1-877-889-4761
Why Recycle Your Unit?
Refrigerators and freezers that use inefficient technology can increase energy costs by up to $100 a year compared to newer models. That means you will save by upgrading or getting rid of a unit. Plus, participating in the Mass Save appliance recycling program ensures your unit is responsibly recycled. The following infographic shows how various components of your refrigerator can be reused: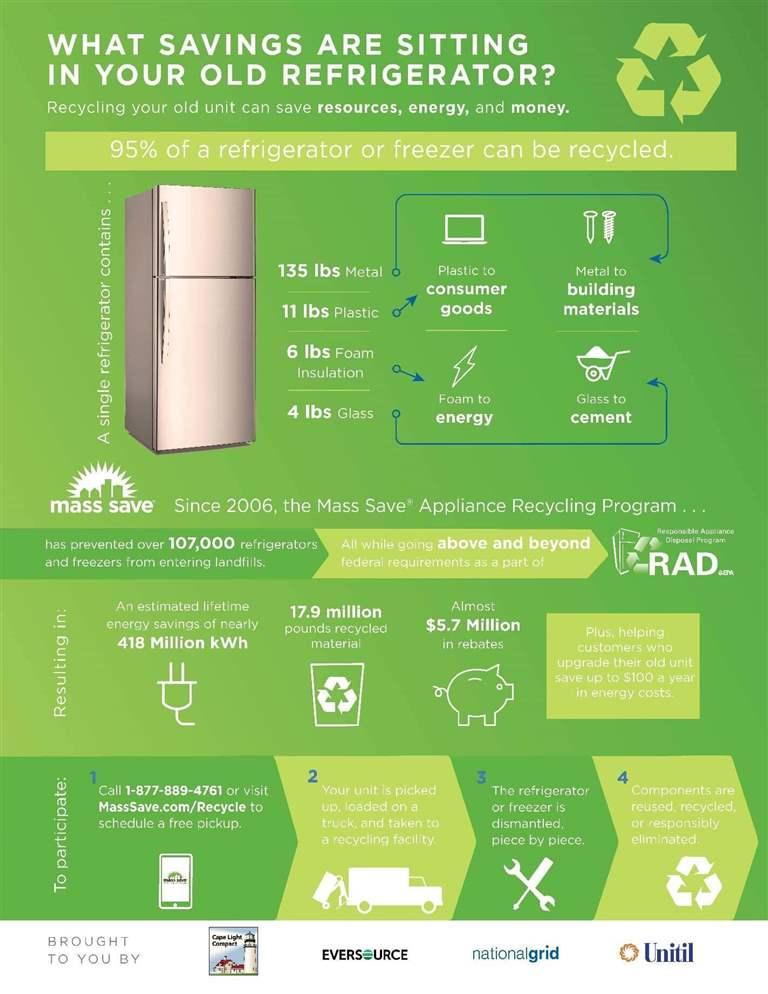 Ready to place an order to recycle your old refrigerator or freezer? Customers can schedule a no-cost home pickup by calling 1-877-889-4761 or by going online.
COVID-19 Safety Information
In compliance with Covid-19 Safety Standards provided by the State, we have resumed offering in-home pickups for your convenience. To keep our customers and employees safe, we have implemented several safety measures, including:
Social Distancing
Workers will practice social distancing whenever possible with customers and all other crew members. When unable to physically distance more than 6 feet, additional PPE will be required.
Training
All on-site workers are required to complete online training on new safety measures in order to be eligible for work.
Wellness Checks
Employees must follow any state or local requirements regarding health screening to clear them to begin work. Workers who are sick in any way are instructed to stay home.
Explore More Topics
Buy Energy Saving Products Here
This Offer is Available to Customers Of: