Refrigerator & Freezer Recycling for Small Businesses
Enjoy extra savings with a $75 rebate.
Unlike new high efficiency models, older refrigeration units waste energy. In fact, they could be costing you as much as $100 annually compared to newer models.
National Grid and Cape Light Compact JPE are here to help: we're offering small businesses the chance to receive a $75 rebate for recycling an old fridge or freezer through the Mass Save® appliance recycling program. Not only will you get $75, but we will come to your business and haul away your fridge or freezer at no-cost. Take advantage of even more energy-saving solutions available through this program, and these savings can quickly add up!
What happens to your appliance after pickup? Refrigerators and freezers are transported to an appliance recycling facility, where harmful materials – such as capacitors and mercury-containing switches and thermostats – are removed and safely disposed of. Meanwhile, 95 percent of the unit's components, including metal, plastic, and glass are reclaimed for reuse in manufacturing new products. Even the foam insulation is safely incinerated to generate electricity.
Ready to recycle? First, schedule your NO-COST pickup online or by phone. Have your electric account number handy to avoid scheduling delays.
or call 1-877-889-4761
Small Business Recycling Eligibility
The following requirements apply to this offer:
1

You must be a Small Business electric customer of National Grid or Cape Light Compact JPE with an average monthly kW demand of 300 kW or less.

2

The unit must be sized between 10 – 30 cubic feet.

3

The unit must be clean, empty, and in working condition at the time of pickup.

4

You must call to sign up before January 1, 2020.

5

You may recycle a maximum of two units per electric account each calendar year.
This offer is subject to change or cancellation at any time. Savings and energy efficiency experiences may vary.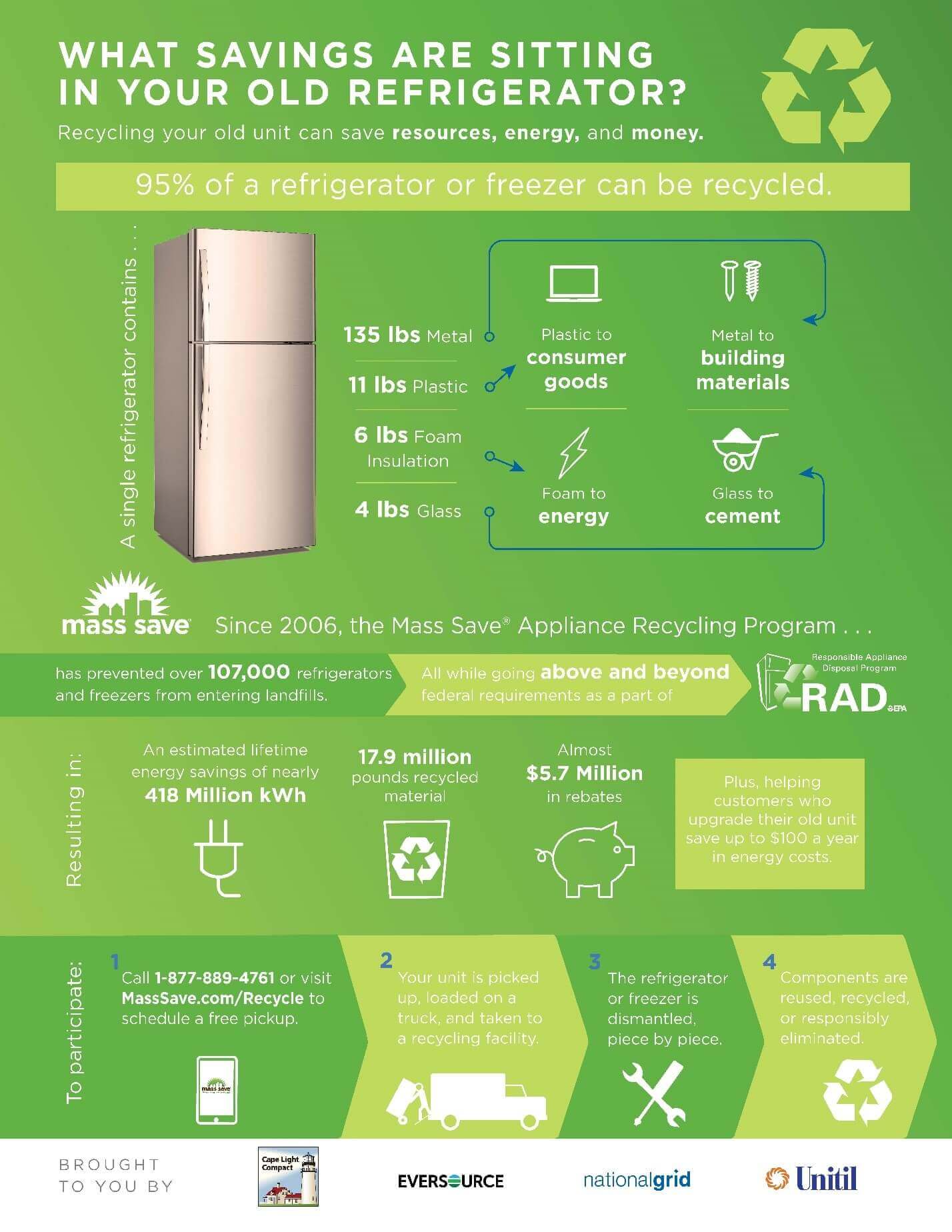 Find Your Mass Save Sponsor